When COVID-19 struck last year, by the middle of March, Pet Therapy had come to a halt. Everyone thought it would be for just a few weeks, but we watched it become a world-wide pandemic, and the dogs were not allowed back. So many things were unknown. Can people get COVID from dogs? Can dogs get COVID from people? No one had the answers, so to be safe, they stayed home.
What exactly is a Therapy Dog? Also known as a comfort dog, they are registered and go with their owners to volunteer in settings such as hospitals, senior homes, schools, libraries, and airports. From working with a child who is learning to read or visiting a senior in assisted living, therapy dogs and their owners work together as teams to improve the lives of other people.
Studies have shown many benefits to Pet Therapy interaction. Animal Assisted Therapy & What Science Says
March 12, 2020, was the last time we were able to visit a local children's treatment facility. We had been visiting weekly for over 4 years and got to see first-hand how much good the dogs can do. The kids and staff have come to rely on the dogs to bring some sense of normalcy during their visits. It can be a reminder of home, of what they have to look forward to, and a way to bring smiles even for a short time. Most kids are in the hospital for an extended period of time while they receive their treatment. If you're a young person away from home with no visits from family due to COVID-19 and not seeing much of the outside world, a dog visit can be like a little piece of heaven.
As volunteers at the treatment facility, we were able to receive our COVID-19 vaccines and, with the approval of the hospital board, we were allowed to start bringing the dogs back as long as we followed all PPE protocol.
So on February 11, 2021, almost a year after our last visit, we showed up with excited dogs ready to get back to work. We normally spend 2 hours visiting anywhere from 50 to 100 kids in several wards. That night we were there for almost 3 hours. The staff and kids all came out to welcome the dogs back. There were many tears shed, from kids being reminded of their pets at home to the staff being glad to have us back.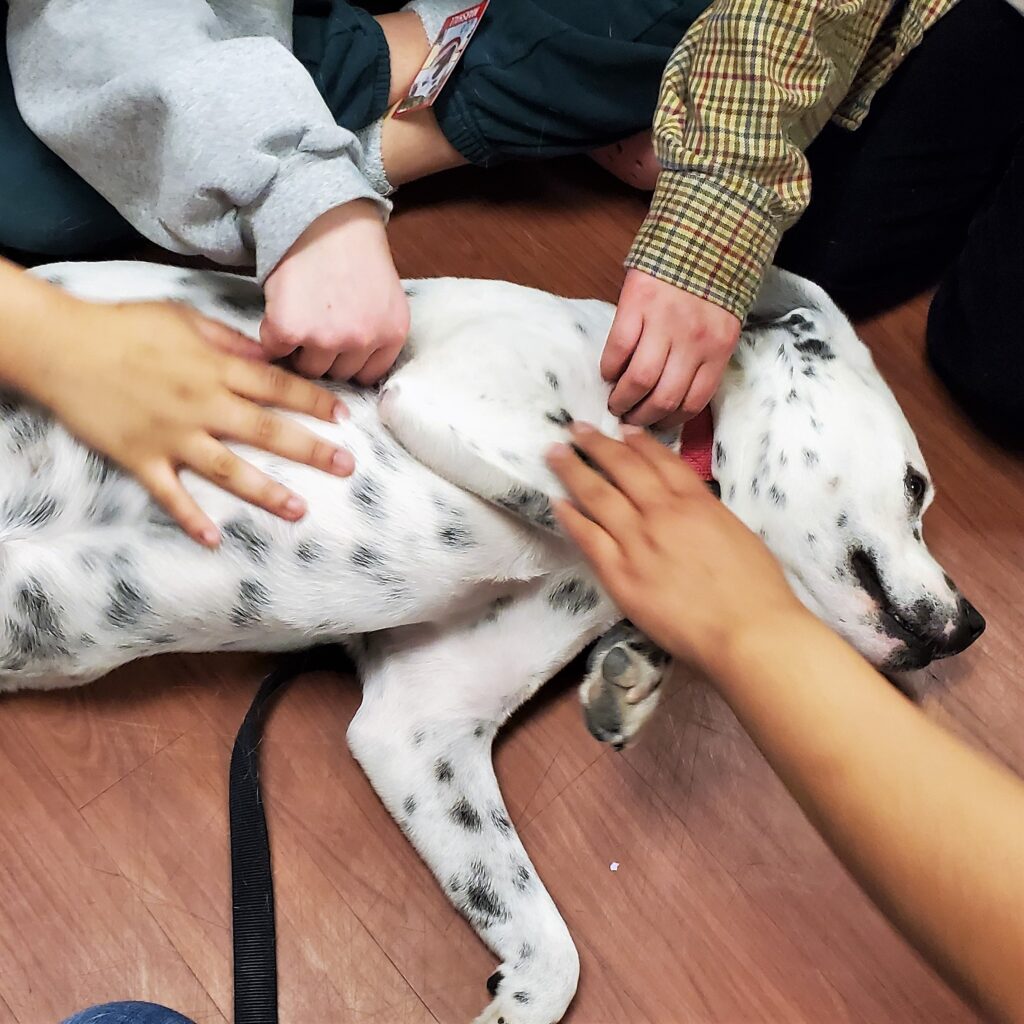 Because of privacy rules we are not allowed to share too much or show pictures of the kids faces. But as you can see in these photos, a good time with belly rubs and hugs was had by all!
If you are interested in volunteering with your dog and becoming a therapy dog team, please visit Alliance of Therapy Dogs for more information. It can be one of the most rewarding things you will ever do.
Pet Evac Pak – Michelle with Marshall and Claudia with Dash