Pet Evac Pak turned 5 this month.  We are a women owned company and have had many milestones over the past 5 years but none greater than hearing from our customers that we helped them to be prepared when they needed to evacuate and they were able to get out quickly and safely with their pets.
Most of us think it will never happen to us!  But most of us either know someone that has had to evacuate or have had to evacuate ourselves. 
We started this company after Hurricane Harvey and saw all the pets that had been left behind or surrendered because people were not prepared to keep them, or even take them.
As a society, we knew we could do better for our family pets.  But we found nothing on the market that we would use for our own pets.  While I could go on all day about the inadequate supplies that other companies call their pet evacuation kits, like no first aid supplies or not enough food and water or storing it in a bucket and then there is the .99 cent collar and leash that is supposed to fit my dog?  I don't know about you but I have 3 dogs and I would never be able to get out of my house quickly carrying a bucket and managing 3 dogs. 
I want to talk about some of our highlights and milestones!  We have become the leader in Pet Emergency Preparedness and here is why!
Because we are only focused on your pet, that's all we do!
We work the local Red Cross Shelters when set up with our Therapy Dogs so we know what people need when they show up at a shelter with their pets
We have done the research and talked to veterinarians about what to put in our first aid kits.
We have sold kits to the SPCA, Humane Societies, and Military Dog Training facilities and it's for a reason.  They see the value that comes in our packs.
Our products are globally sourced so we can bring you the best quality and value.
In 2022 we moved into a larger facility and now rent space in a local disability shop where we have the ability to pull from their labor when we have larger orders. It's a win/win because we are not only helping pets and pet parents but we can help our local disability community.
We have attended SuperZoo where we met Cesar Millan and the Cat Daddy, The Nevada Preparedness Summit, and the Bi-State Evacuation Drill for Lake Tahoe
California Office of Emergency Services invited us to speak at their Field Day 2 years in a row.
We have attended many local events, and spoken at firehouses, dog training facilities, and homeowner association meetings.
If you have visited our website you know about the custom page we designed and built for those of us who have multiple pets like us! You can build a kit designed for your pets! We think it's super cool
We have donated hundreds of collapsible bowls, and Pet Evac Pak's to charities to help with disasters and for fundraising. We made not only the trip to Huston with a truck and trailer of pet supplies but we made 5 trips to Paradise California and delivered full U-Hauls of pet supplies we gathered from our local community to help during and after the Campfire.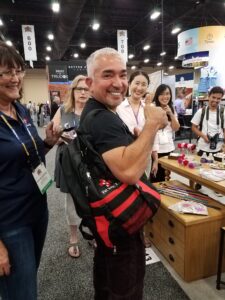 We would like to say THANK YOU to all our family, friends, followers and supporters of our products!  It's because you like us, share us and talk about our company on social media, and promote our mission and our products that have helped us continue to grow and get the word out about Pet Emergency Preparedness.

Watch for our new website to launch later this month!  We are planning new content and specials. Also, make sure you sign up for our Monthly Newsletter on our home page.