When we think of emergency preparedness for our pets, we typically think about the tangible items that we would put in their go-bags, such as food, water, first aid supplies, and copies of shot records. But what about preparing for their psychological well-being?
Some of the things every pet owner should really consider when having to evacuate or even travel:
Does my pet ride well in the car?
Can they walk on a leash?
How about crate training?
Do they have separation anxiety?
These are all things we can work on so our pets are more prepared.
My two dogs are polar opposites! Marshall, the therapy dog, is outgoing, friendly, love to travel and be around people; however, Chase is a timid and shy little dalmatian. The last time I left him at a boarding facility, he lost 5 lbs. from nerves, he doesn't like strangers but is very well trained and his crate is his safe space. So, let's talk about each of these issues.
Car Rides – The best way to start is to just put them in the car and give them a treat, then get them out, giving lots of praise. Make sure they are having fun getting in and out of the car. I would do this over and over for a few days. Then go for short rides and get them used to it. Don't treat them until you arrive back home to "avoid the upchuck". Each time go a little further. If your pet still has some anxiety, check with your vet. I once had a dog that threw up every time I put him in the car and he never got over it, so we had to get something from the vet to help keep him calm. Even cats can get used to riding in the car with some practice.
Walking on a leash – It can be a little harder to train a cat to walk on a leash but there's no time like the present to get started. There are lots of great tools available online to help with training. You can also contact local pet trainers.
First, start with the proper collar (or harness based on your pet). I prefer to use a martingale collar. Sometimes, with a standard collar, your pet can slip out of them if they are not put on securely. Harnesses can work the same way but are not always best for larger dogs as they tend to pull. Don't be afraid to try something different if what you have isn't working for you or your pet.
Next have a good 6' lead. I personally wouldn't recommend a retractable lead. It's harder to control your pet and they can potentially cause injury to you or others. We want to make this is fun for our pets and for us so it's an enjoyable experience.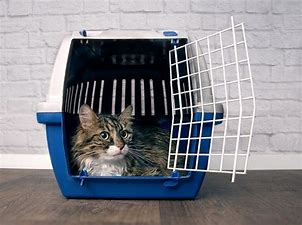 Crate training – I know some people don't like to use crates, but, in the event of an evacuation, you might not have a choice. I work with the Red Cross, bringing Pet Therapy teams into shelters to help with anxiety. Most shelters do not allow pets, they are usually housed at a different location, so they will need to be in a crate. This is not the time to find out your pet doesn't like to be created.
I always recommend putting the crate in the living room or someplace where you spend a lot time. Leave the crate door open and put their favorite blanket or bed in it. Start by giving them treats or even feeding them in the crate with the door open. This should be a safe, happy place for them, so never use a crate as punishment!!!!! Before you know it, you will find them using the crate on their own.
Separation Anxiety – As the country starts to re-open, it's going to be really hard for our pets as we return to work. Now is a good time to start leaving them for short periods of time so they know you will return. Start with giving them a treat like a Kong with peanut butter inside to keep them occupied for a short time. Even go for short walks without them. Allow time for them to adjust; don't wait until a few days before you go back to work. If they are still having issues check with your vet. They can recommend the best treatments for your pets to help them to stay calm. Again, this is not something you want to find out should you have to evacuate. If the vet recommends medications you can have some in your pet's go-bag just in case.
We sure hope this helps you get prepared for any emergency with your pet. It's stressful for all of us and being prepared can ease some of that stress and bring you peace of mind.
Prepare today to be safe tomorrow!