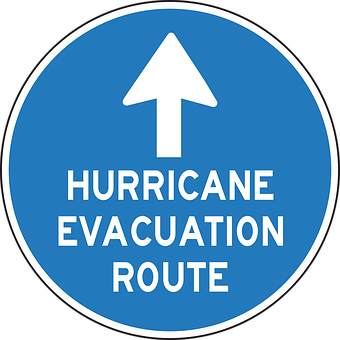 Hurricane's come with some warning but experts agree when you have pets you should leave at the first signs there is danger coming. If you live anywhere where hurricanes are a threat you know that the roads can get congested with traffic, with everyone trying to evacuate and you don't want to be stuck in your car with a stressed-out cat.
The time to prepare your cat for an evacuation is prior to any hurricane threat. In this blog, we want to help you get your cat prepared for a Hurricane by making a plan and having a cat evacuation kit ready to go.
Never leave your pets behind. If it isn't safe for you, it isn't safe for your pet. And you never know how long you will need to be gone from your home.
It's scary for sure, but preparation and practice will help ease some of that stress.
As most know, cats are notoriously independent, aloof, and will instinctively hide from danger, thus making them very challenging to handle during an emergency. Dr. Dick Green, the senior director of disaster response for the ASPCA, says because many disasters happen with little to no warning, "we have to be dependent on preplanning. Anticipate.
Can you lay your hands on your cat's carrier easily? Or is it buried in a closet and only brought out and dusted off for the annual vet visit? If so, as soon as the carrier comes out, the cat immediately runs and hides. Instead of putting it away, leave it out and give the cat the chance to get used to it. Make it something positive – put some treats in it sometimes so they become curious about it. Put a blanket or towel in there to make it more comfortable. Practice going for a ride to somewhere other than the vet. For cats that still have issues with the carrier, keep a pillowcase handy to slip over the cat and then slide him into the carrier.
Do some recon regarding facilities where you can stay. Call ahead to see if the evacuation shelters will take pets. Many emergency shelters don't allow pets, so another option would be to go to a pet-friendly hotel. These can fill up quickly, so it's good to have more than one on your list of important numbers.
Another critical thing to do is prepare a cat go-bag and keep it next to your people go-bag. It should include everything your cat would need for 3 days should you have to evacuate.
Your cat's emergency kit should include: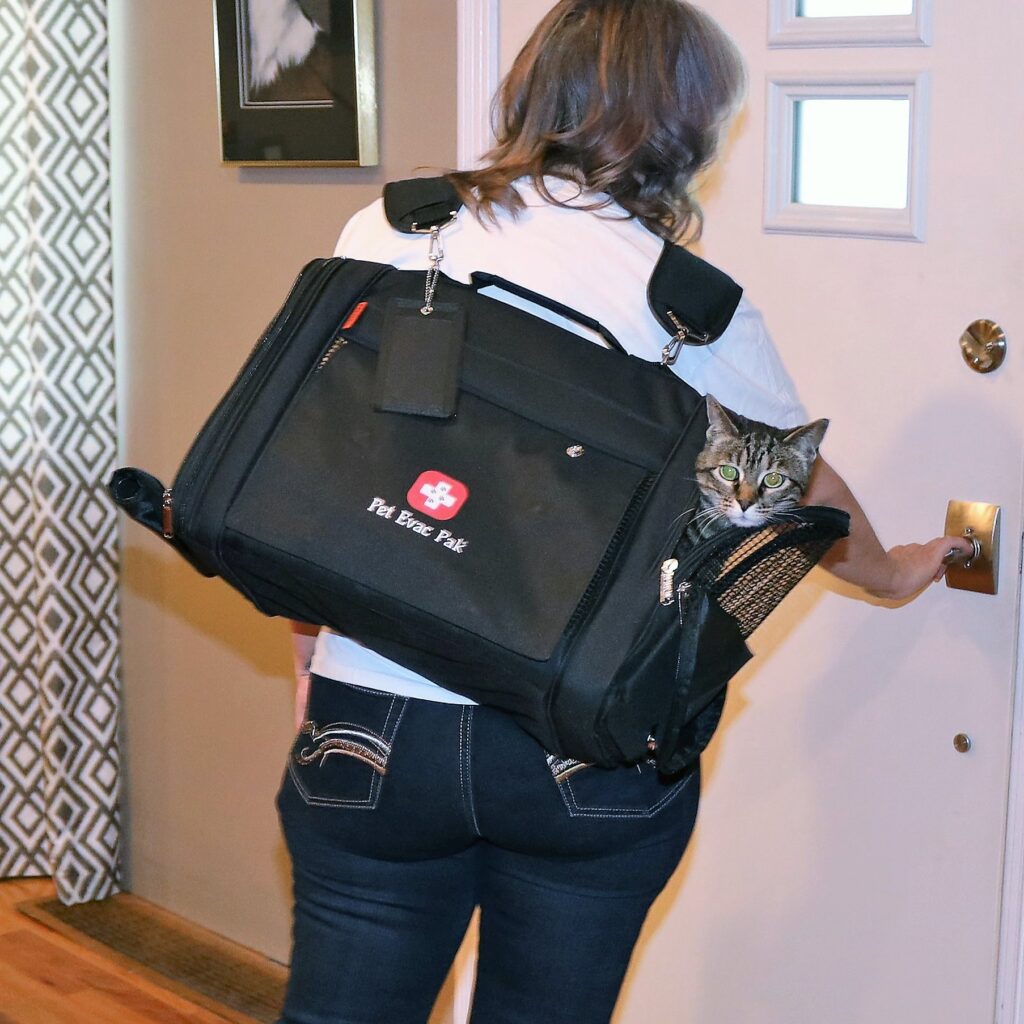 A carrier
Cat food – three-day supply (if you use canned cat food, include a can opener)
Water
Food and water bowls
Slip lead (or harness with a d-ring for a leash) – collars can come off, so a slip lead or harness is a more reliable option
Litter box, litter scoop, litter, and poop bags – if your cat doesn't potty outdoors normally or doesn't potty when walking on a leash, they won't start when you're in a shelter
First aid kit
Comfort items (favorite toys, an item of your old clothing to be used as bedding)
Medications
Vaccination records
Photo of your cat
At Pet Evac Pak, we've thought of all those essential go-bag items and put them together in a comprehensive kit. We have three different options: the Ultimate Cat Pak with a carrier, Pet Evac Cat Pak without Carrier (if you already own a carrier), or a kit in a backpack. Check them out on our website at www.petevacpak.com.
If you have multiple pets or want to build a custom kit please make sure you check out our Custom Kit page where we will walk you through how to build your pets kit. Don't worry if you forget something or don't need what you selected you can make any adjustments at the end.
To help you with your custom kit this month use code CUSTOMKITJULY22 to receive a 10% discount.
Prepare today to keep your pets safe tomorrow!